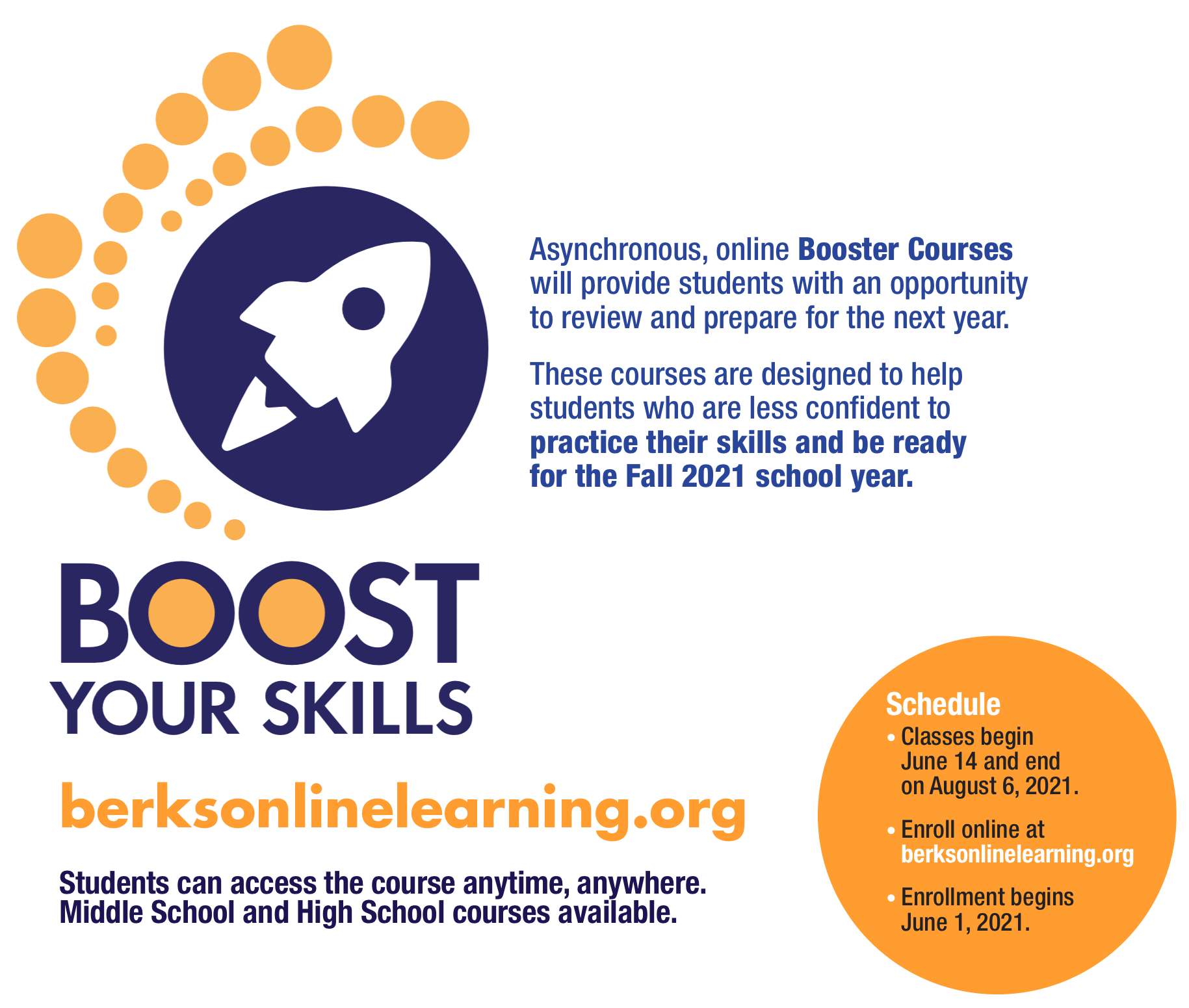 This summer, put your student on course for success!
Click here to register for Booster courses
Does your student want/need more practice in a particular course?
Asynchronous online Booster Courses will provide students with an opportunity to review and prepare for the next year.  These courses are designed to help students who are less confident to practice their skills and be ready for the Fall 2021 school year.

You'll find choices and solutions with the Berks Online Learning summer program.
Students may choose from a list of online classes. Our multimedia-based curriculum engages students in the learning process with video presentations by highly qualified subject-certified teachers, and online projects to ensure students master the instructional content.
Flexibility & Convenience
Students may access course materials anytime (24/7) and anywhere they are connected to the Internet. They may even continue to make progress on their coursework during a family vacation or an out-of-town visit with friends or relatives. Courses include weekly live sessions with the benefit of live teacher office hours for additional tutoring and support.
Local Support
Students and parents can rely on the Berks County Intermediate Unit (BCIU) for ongoing support.


COST TO FAMILIES
$270.00 per course
Notes: Students must have computer and internet access. Courses are NOT available for high school credit. Successfully completing a booster course will not affect a student's previous grade or transcript.
Course cost is non-refundable after student has received enrollment registration.


SCHEDULE
Booster summer classes begin June 14 and end on August 6. Students will work at their own pace during this time.


REGISTRATION/ORIENTATION
Click here to register for Booster Courses. Orientation date and time along with  Zoom link will be emailed to registered campers.
Note: Students should enroll in the course just completed in Spring 2020.
AVAILABLE COURSES
HIGH SCHOOL
Language Arts 9
Language Arts 10
Language Arts 11
Language Arts 12
Algebra 1
Geometry
Algebra 2
MIDDLE SCHOOL
Language Arts 6
Language Arts 7
Language Arts 8
Math 6
Math 7
Math 8